---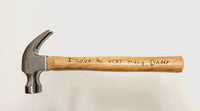 Engraved to say whatever you want! Custom text like this or any of the following:
worlds best dad
dad thanks for the memories we built
Best. Dad. Ever. 

My dad can fix anyrbjng
Best. Grandpa. Ever. 
forever your little firl
My papa can fix anything 
I love building memories with you dad 
if papa can't fix it then nobody can
Happy Father's Day 2023 
When it comes to being a dad, you nailed it.