---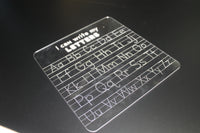 These acrylic boards are the perfect way for your littles to practice writing their ABC's over and over without wasting any paper. Simply wipe off and start over! 
For use with a dry erase marker. These are engraved on the backside so the front is extremely easy to clean.
There are bottom pieces on the corners so they aren't directly flat on the table!